SAUDI'S AL-RAJHI DOUBLES HIS ADVANTAGE WITH ANOTHER FASTEST TIME ON FOURTH DAY OF  RALLY KAZAKHSTAN
MEDIA INFORMATION
2018 Rally Kazakhstan
For immediate release
Thursday, May 31st, 2018
SAUDI'S AL-RAJHI DOUBLES HIS ADVANTAGE WITH ANOTHER
FASTEST TIME ON FOURTH DAY OF RALLY KAZAKHSTAN
· Russia's Vasilyev moves back ahead of Poland's Przygonski and into second
· Qatar's Adel Abdulla and Frenchman Patrice Garrouste fastest in T2 and T3 sections
AKTAU CITY (KAZAKHSTAN): A third fastest time in four days in Rally Kazakhstan enabled Saudi Arabia's Yazeed Al-Rajhi to double his outright lead to over eight minutes as teams tackled a fourth selective section of 398.57km between Kenderly and Aktau City on Thursday.
Al-Rajhi said: "Today we had our first puncture after 16km. We changed it very fast and then we had a second puncture after 200km and we had to drive around 180 (km) with no spare. I started fourth but we attacked like hell. You need to find good places to overtake. It was not easy to overtake (Martin) Prokop. Luckily we were in a chott and we managed to get through."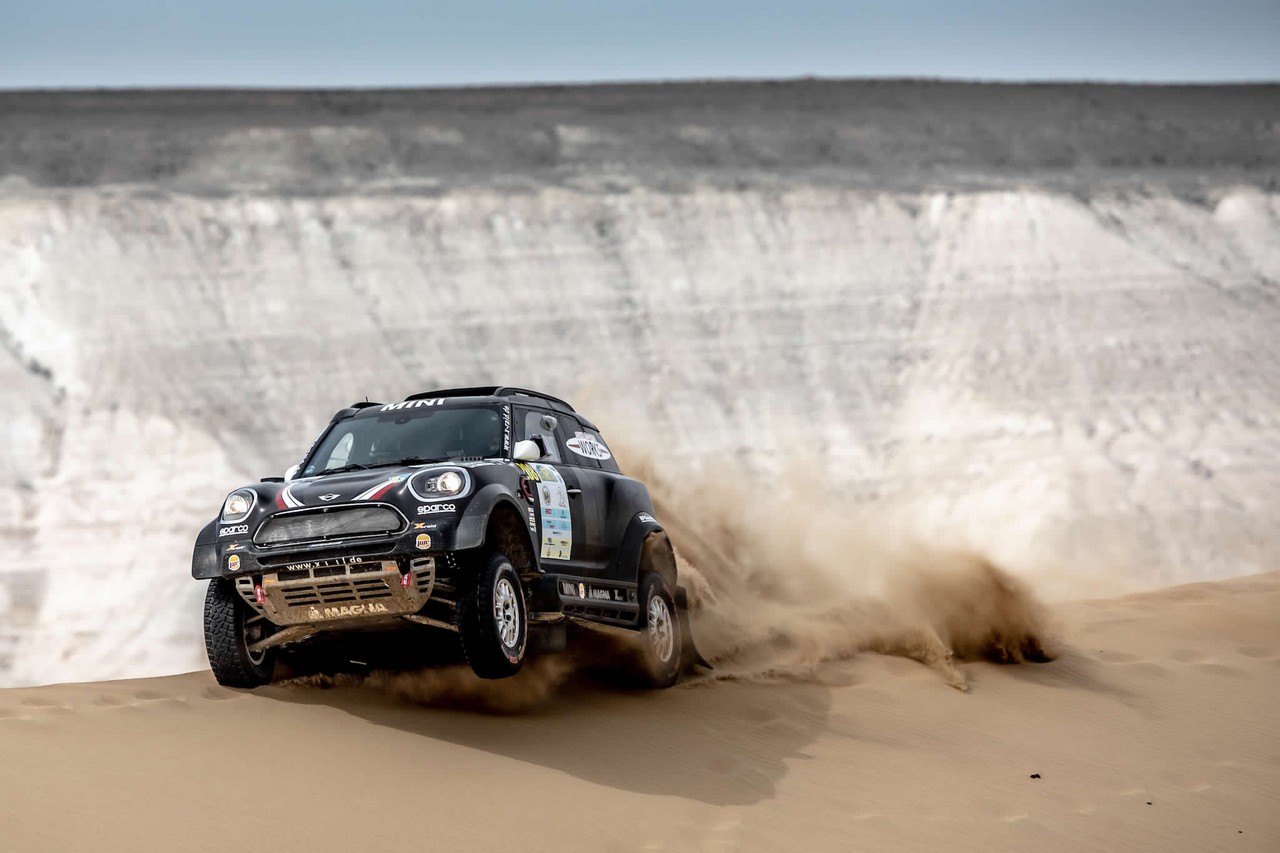 Yazeed Al-Rajhi
With the rally returning to Aktau City for the remaining two overnight halts, a mere 8min 38sec separates first from third position in a MINI lock-out of the podium positions. FIA World Cup leader Jakub Przygonski and Belgian navigator Tom Colsoul slipped back to third in the second X-raid MINI John Cooper Works Rally and now trail the Russian duo of Vladimir Vasilyev and Konstantin Zhiltsov (MINI Cooper Countryman) by 33 seconds.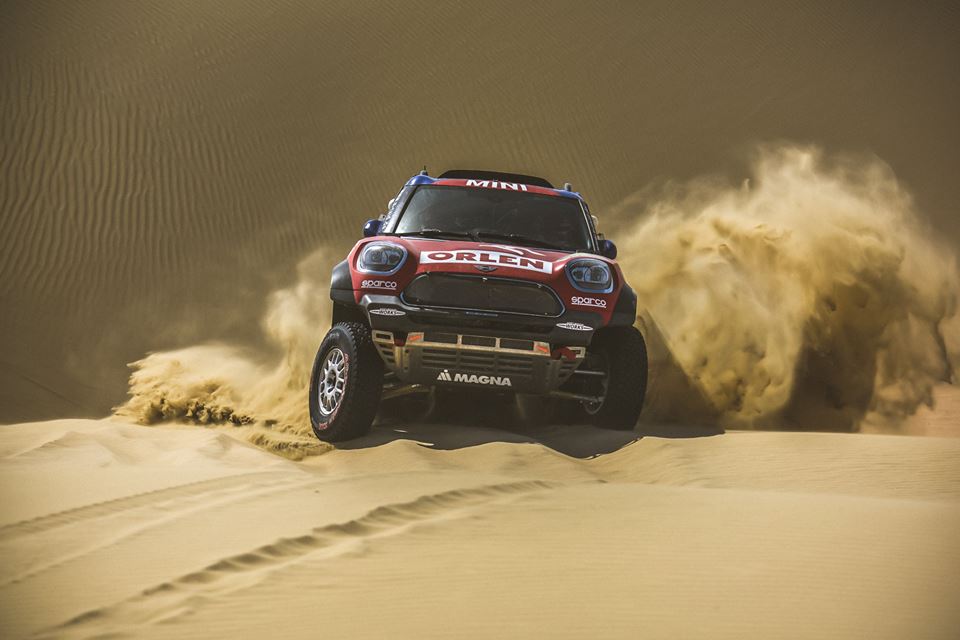 Jakub Przygonski and Belgian navigator Tom Colsoul
The Russian complained that he lost time in the dust of other vehicles on a stage where several of the leading cars were running close together for long periods. Zhiltsov commented: "It was a really interesting special stage, dust, fesh-fesh and difficult dunes. I don't remember the dunes like that. There were a lot of drops and sharp dunes and vegetation in the sand. Everything okay except for an incident with the Sentinel. We will see."
Czech driver Martin Prokop beat Przygonski to the third quickest time by 11 seconds to consolidate fourth overall in his Ford F-150 Evo and, despite losing nearly an hour on the day's timed section stuck in a tricky sand dune, Frenchman Luc Alphand clung on to fifth overall in X-raid's MINI Buggy.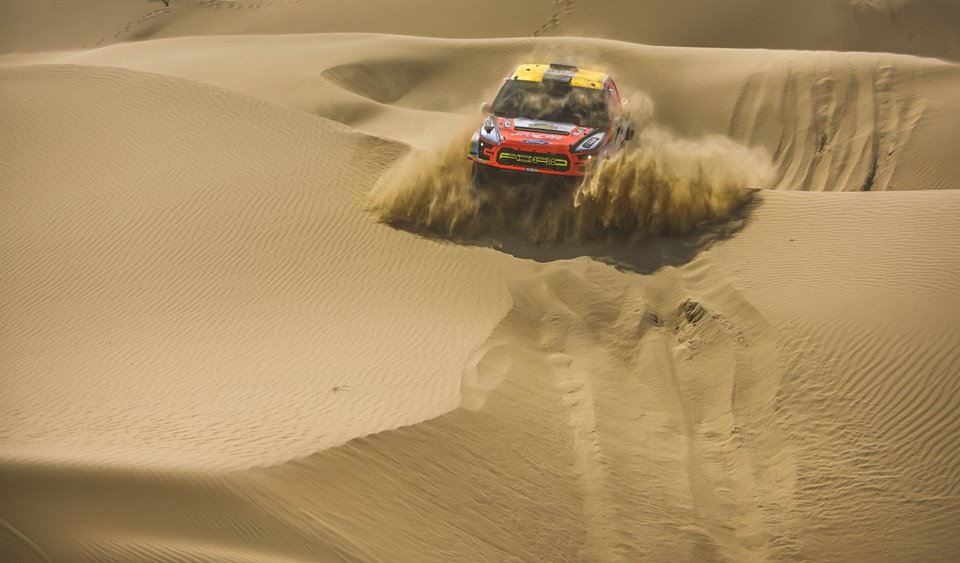 Martin Prokop
"It was a very nice stage and we were leading most of the way until we made some small mistake in the dunes and we lost some time. We had to let Yazeed go. But I was happy with the speed today. I had to wait for the dust then. Vasilyev was also close to me. We are all at the same speed so I could not do anything. I guess I am sorry for him because we were all stuck in the dust of Yazeed."
Luc Alphand said: "Three bad days and it is continuing. We stopped to do the tyre pressures, manually, before the dunes. We did a little too much and, in the second part of the dunes, we got stuck in a really bad position and we were there almost one hour. It was a nightmare."
G-Force driver Andrey Rudskoy maintained sixth place and his team-mate Boris Gadasin managed to pass Viktor Khoroshavtsev (MINI John Cooper Works Rally) in the overall rankings and climbed to seventh. The fifth quickest time on the day's stage enabled England's Harry Hunt to strengthen his grip on ninth overall in the PH Sport Peugeot 3008 DKR.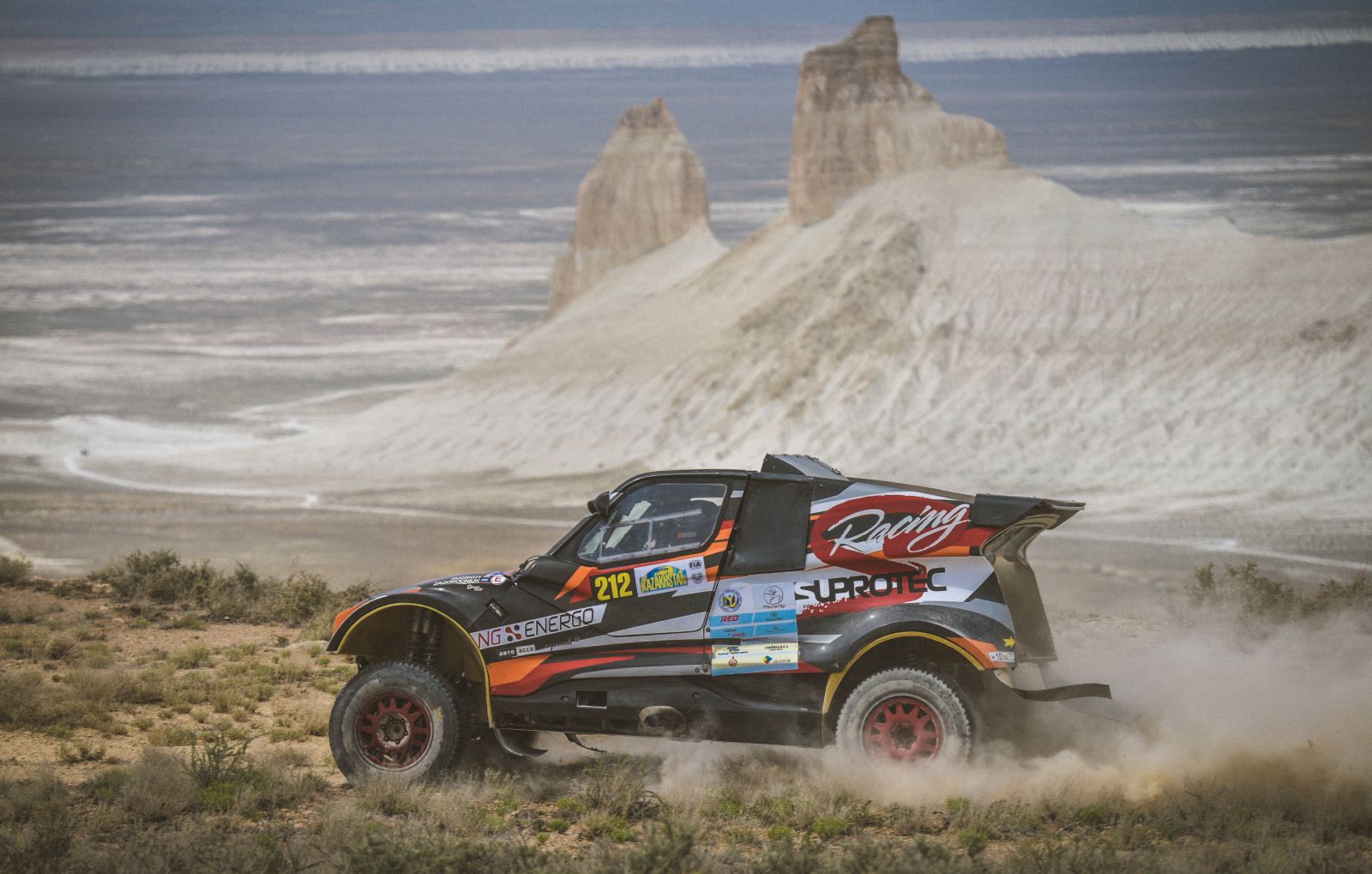 Andrey Rudskoy
Germany's Jürgen Schröder and his son Dan moved above Yerden Shagirov and Denis Krotov and back into 10th position in their South Racing Nissan Navara. Spanish team-mate Fernando Alvarez had suffered clutch issues and heavy time penalties the previous day and recovered well to set the 12th quickest time. Shagirov lost well over an hour on the stage with technical issues and slipped behind Krotov as well to hold 12th overall.
Qatar's Adel Abdulla recorded his second successive stage win in the T2 category in a rented Toyota Land Cruiser, but there were large delays for Kazakhstan's Kirill Chernenkov - who began the day with a lead of 10min 12sec over Russia's Konstantin Ivanov - and OFF-ROAD Kazakhstan's Marat Abykayev. They were still out in the desert as the leaders returned to service in Aktau City.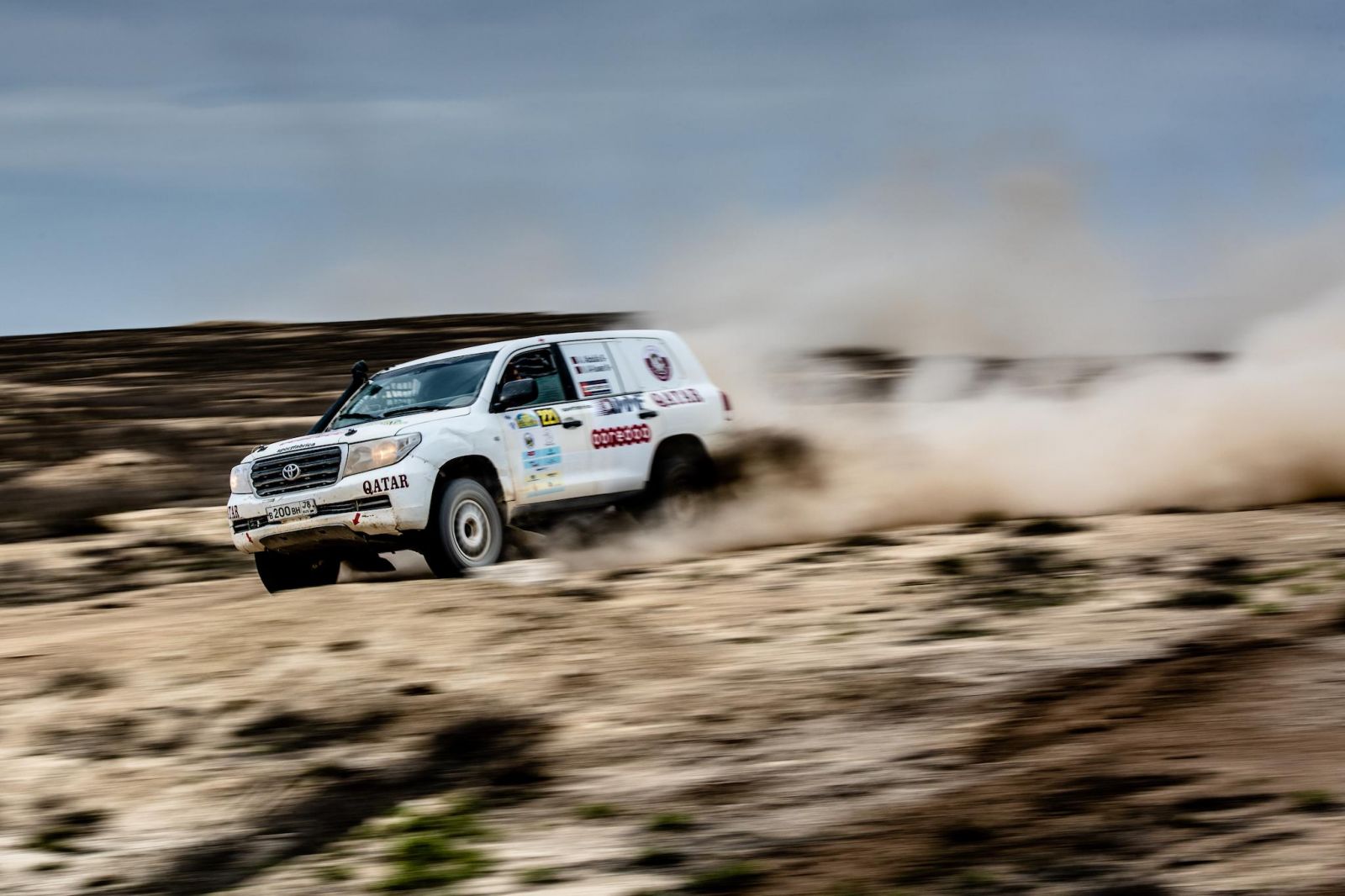 Adel Abdulla
Frenchman Patrice Garrouste was again the man to beat in the T3 category and the Polaris RZR 1000 driver recorded another stage win in a time of 5hrs 50min 48sec. Overnight leader Santiago Navarro completed the special 7min 57sec behind the Frenchman and extended his advantage over fellow Spaniard José Pena Campo to 20min 01sec. Kazakh Dmitry Pitulov was third quickest on the day to stay above Garrouste in the rankings.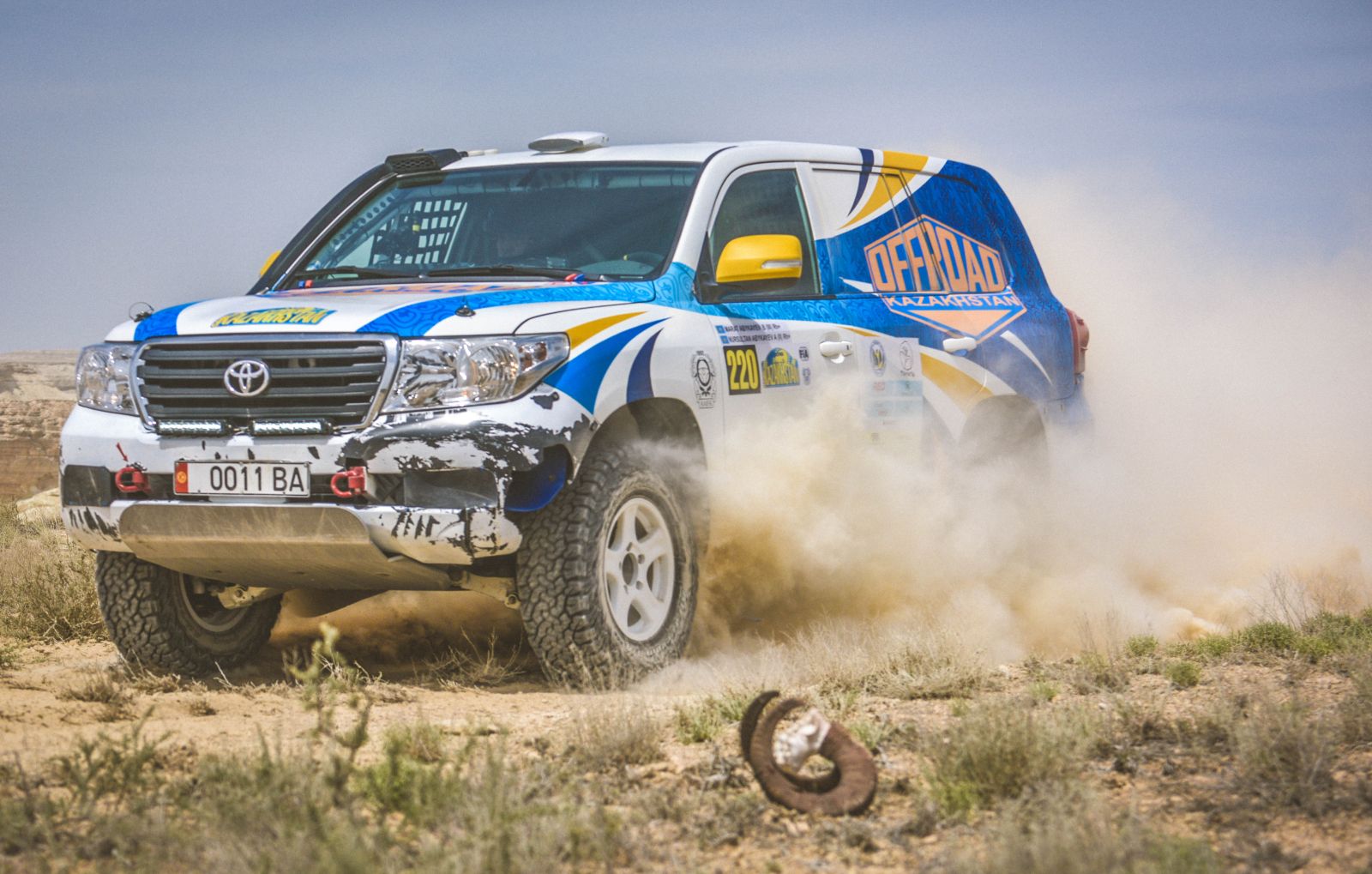 Marat Abykayev
Sergey Kupriyanov won the National Rally stage in the first of the Team Kamaz Masters trucks in a time of 5hrs 12min 00sec.
Tomorrow (Friday), the penultimate stage of the event runs for 298.04km to the north of Aktau City sections of which were also used in 2017.
For further media information: Neil Perkins, NDP Publicity Services, international media officer, 2018 Rally Kazakhstan, UK mobile: +44 7831 123153, E-mail: ndppublicity@googlemail.com, Twitter: @LordPerkins, www.ndp-publicity.com (press releases).