ROSS BRANCH FASTEST ON OPENING FIM
MEDIA INFORMATION
2021 Rally Kazakhstan
For immediate release
Tuesday, June 8th, 2021
ROSS BRANCH FASTEST ON OPENING FIM
SUPER SPECIAL STAGE AT RALLY KAZAKHSTAN
AKTAU CITY (KAZAKHSTAN): Botswana's Ross Branch set the fastest time of 1min 26.6sec on the shortened 2.2km super special stage that will determine the starting order for the FIM motorcycles and quads on the opening desert stage of Rally Kazakhstan on Wednesday morning.
As the cars and trucks running on round two of the FIA World Cup for Cross-Country Rallies sat out the afternoon's opening action, the world's leading cross-country riders took centre stage for their first taste of rallying in Kazakhstan and the Monster Energy Yamaha factory rider beat the GasGas Team's new signing Daniel Sanders by four-tenths of a second through the sandy special.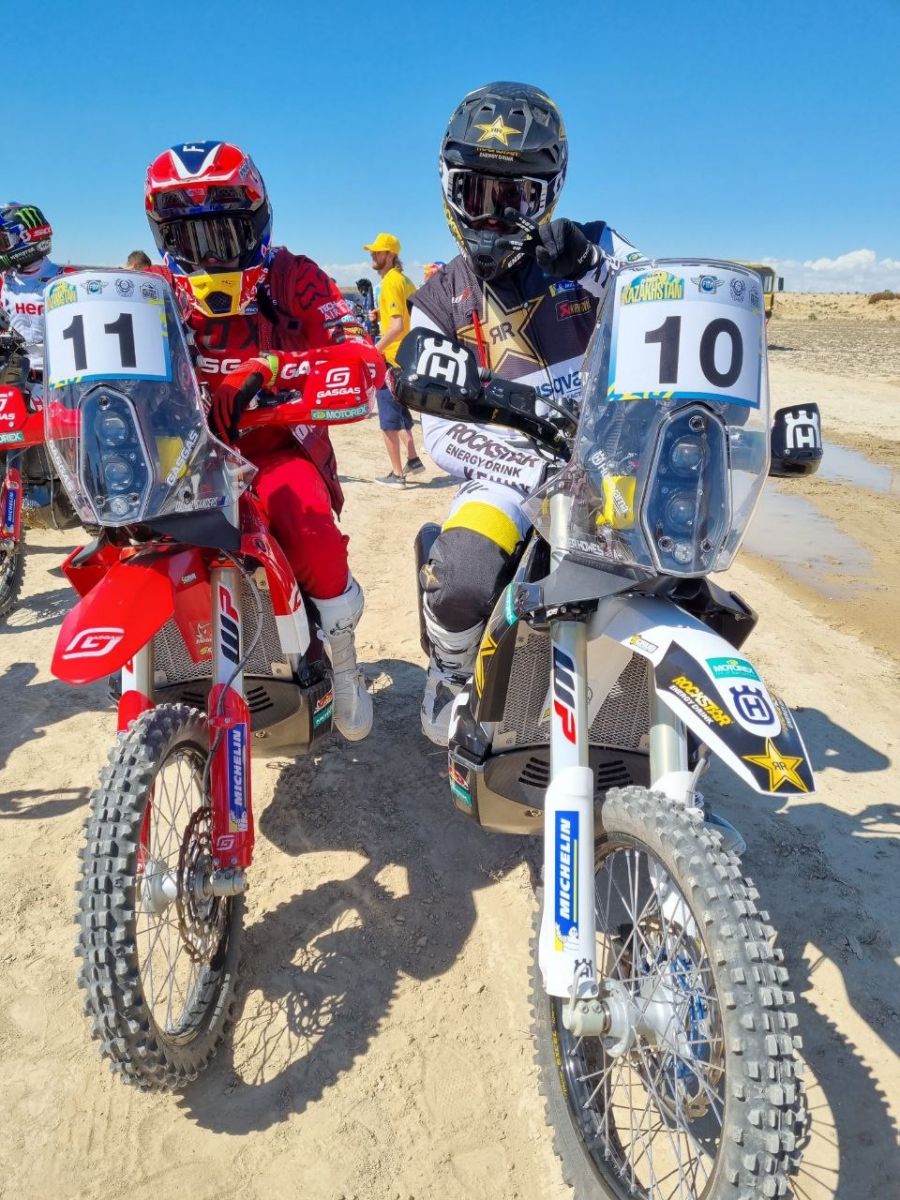 Austria's Matthias Walkner was third at the start of this opening round of the FIM Cross-Country Rally World Cup, but strategy was firmly in play and, with no rider having any previous knowledge of what to expect across the vast south-western Kazakh deserts, several riders were happy to play a patient waiting game before beginning their serious challenge from Wednesday morning
KTM's Sam Sunderland came home eighth. He said: "It's really cool for me to be here in a new country and see what they have to offer in terms of the desert. A little bit tired after the travelling days and will sleep well, for sure, but I am looking forward to the days to come."
Seventh-placed Frenchman Adrien van Beveren added: "This is a great opportunity to discover a new desert and a new country. I cannot wait to race again. We had some bad moments in the Dakar but we are working hard with the team to make it better."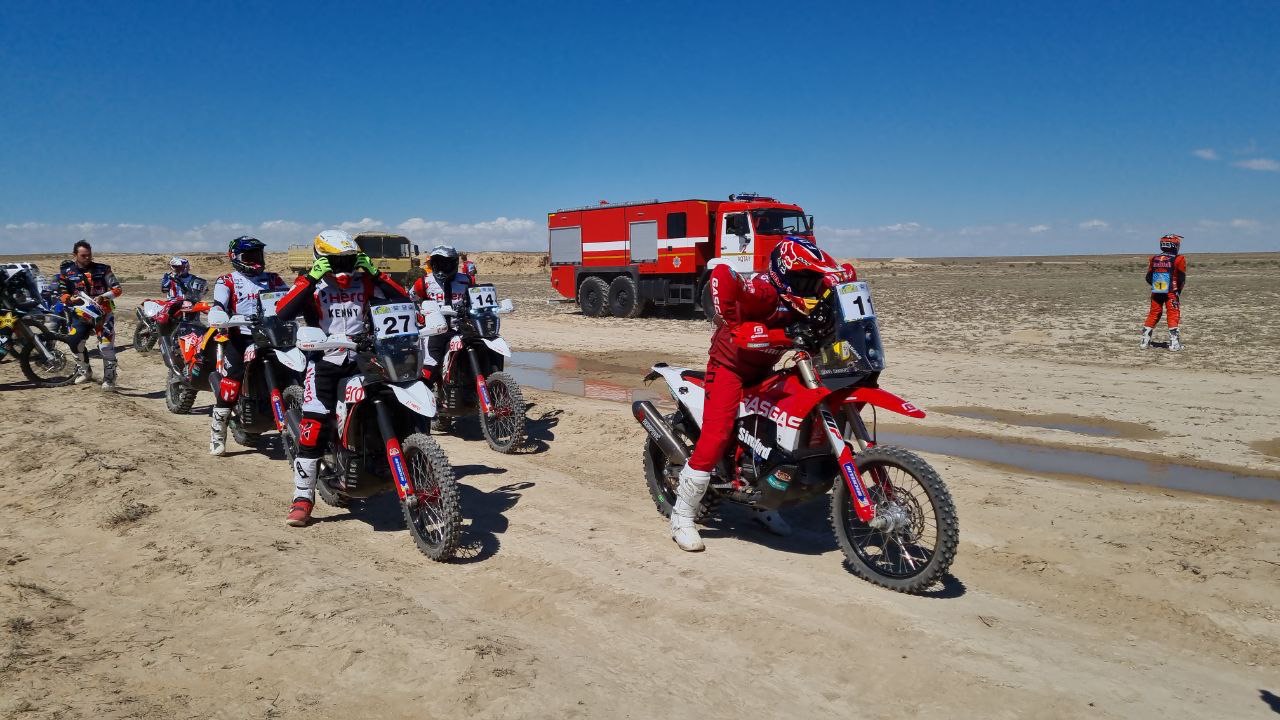 Argentina's Manuel Andujar topped the quad times from Russia's Alexsandr Maksimov and Poland's Rafal Sonik.
An upbeat Rodolfo Guilliolo made the journey from Guatamala to compete in central Asia. He finished fourth in the quads and said: "Guatamala to Kazakhstan is a very long way. I actually travelled for two days. I took four planes and I was able to come here and I am pleasantly surprised what I have seen. I have hired a local assistance and they have been great. I have known them for 48 hours and they have helped with the quad and other things like having a local cell phone, buying groceries and things. I took a small test in the dunes and it looks similar to Peru, where I used to live."
Several teams took time away from the administration and technical formalities to carry out testing with their equipment. Saudi Arabia's Yazeed Al-Rajhi won the rally in a MINI John Cooper Works Rally in 2018 and he was one of the drivers to take an opportunity to shakedown his Overdrive Toyota, alongside members of the X-raid Team and South Racing and Monster Energy Can-Am operations.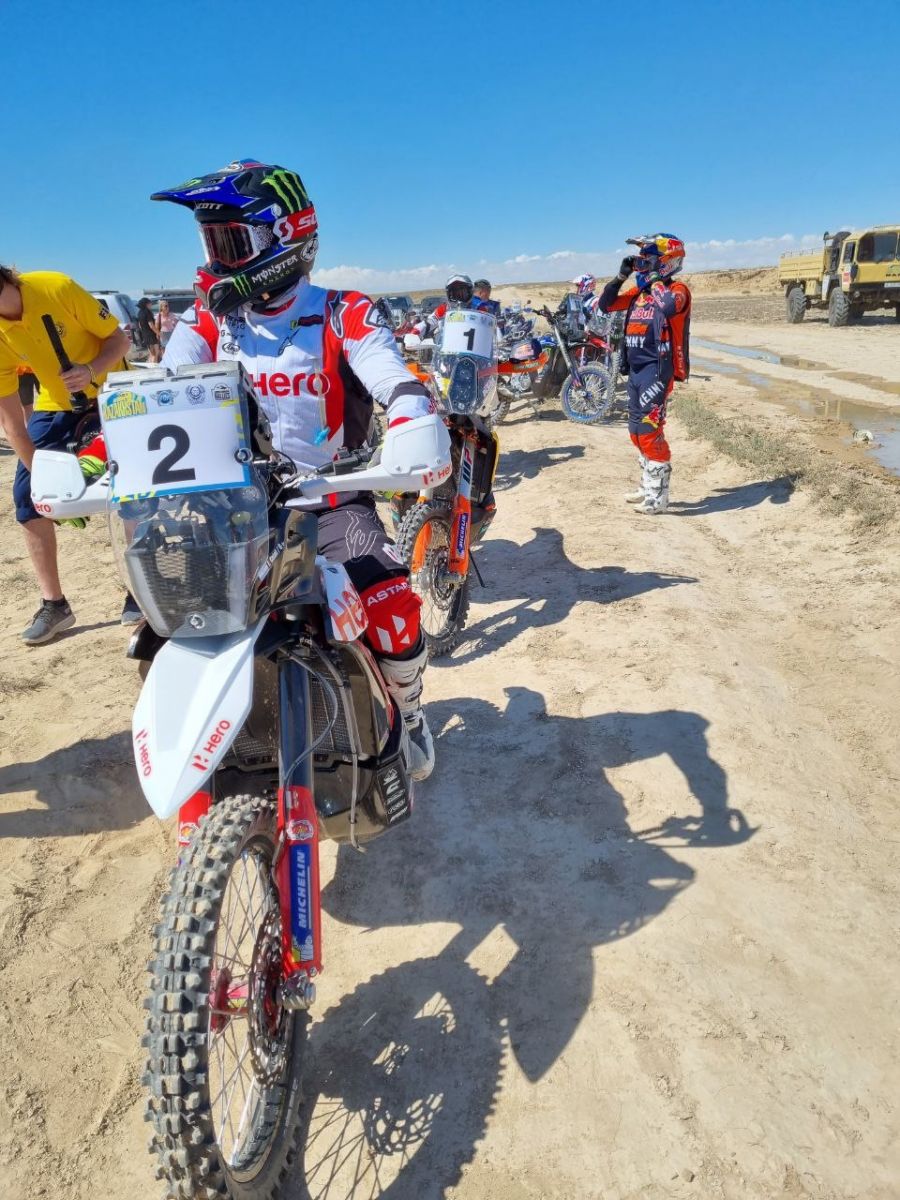 Can-Am driver Austin Jones leads the FIA T4 category by nine points and has made the trip from Arizona. "It's my first time here. I made the very long journey from the USA. It took about 55 hours with very little sleep. It was a crazy journey. Two planes in the US and then ended up in Amsterdam, then Warsaw, an 11-hour lay-over in Warsaw and now we are here. It took a little time through the airport, but I am very excited to be here."
Wednesday
Tomorrow, competitors tackle the first of five punishing selective sections through the south-western deserts. After a liaison of 191.79km to a start near the town of Senek, the first motorcycle will begin the opening timed section of 136.13km at 08.00hrs.
After a refuel for FIM competitors, action resumes to the stage finish after 280.22km with a link of 42.86km taking entrants back to the bivouac in Aktau.
2021 Rally Kazakhstan – SSS1 result (2.2km):
| | |
| --- | --- |
| Bikes | |
| 1. Ross Branch (BWA) Yamaha WRF 450 | 1min 26.6sec |
| 2. Daniel Sanders (AUS) KTM 450 Rally | 1min 27.0sec |
| 3. Matthias Walkner (AUT) KTM 450 Rally | 1min 27.3sec |
| 4. Andrew Short (USA) Yamaha WRF 450 | 1min 28.0sec |
| 5. Skyler Howes (USA) Husqvarna HQV 450 Rally Replica | 1min 28.0sec |
| 6. Joaquim Rodrigues (PRT) Hero 450 Rally | 1min 28.6sec |
| 7. Adrien van Beveren (FRA) Yamaha WRF 450 | 1min 29.3sec |
| 8. Sam Sunderland (ARE) KTM 450 Rally | 1min 33.4sec |
| 9. Franco Caimi (ARG) Hero 450 Rally | 1min 34.0sec |
| 10. Sebastien Bühler (DEU) Hero 450 Rally | 1min 35.0sec |
| 11. Luciano Benavides (ARG) Husqvarna HQV 450 Rally Replica | 1min 35.5sec |
| 12. Augusto Cabini (ITA) Honda CRF 450 RS | 1min 51.4sec |
| Quads | |
| 1. Manuel Andujar (ARG) Yamaha Raptor 700 | 1min 54.4sec |
| 2. Aleksandr Maksimov (RUS) Yamaha YMF 700R SE | 1min 55.0sec |
| 3. Rafal Sonik (POL) Yamaha Raptor 700 | 1min 57.5sec |
| 4. Rodolfo Guilliolo (GTM) Yamaha Raptor 700 | 2min 09.0sec |
Ends
For further media information: Neil Perkins, international media relations, 2021 Rally Kazakhstan, Tel: +44 7831 123153, E-mail: ndppublicity@gmail.com