Registrations for the FIA and FIM World Rally-Raid Championships
All about the 2022 FIA and FIM World Rally-Raid Championship
Registrations are open for the 2022 FIA and FIM World Rally-Raid Championship
The 2022 season, which will comprise five stages, will see the discipline's champions vying for supremacy throughout the year. If the showpiece event kicks off in Saudi Arabia this coming January, you will have to go to the subsequent stages in Abu Dhabi in March, Kazakhstan in April, Andalucia in June and then in Morocco in October to stand out and aim for the prestigious titles of FIA and FIM World Champion, Manufacturers and Drivers and Co-Drivers, Overall and by category.
If you love the great outdoors and this sport, get ready to embark on this new adventure!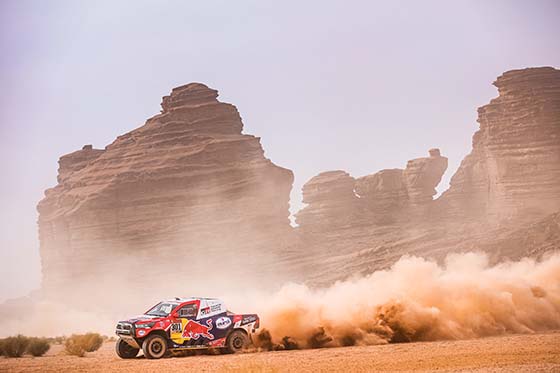 Register!
For the manufacturers and competitors in the Car (T1 and T2), Lightweight Prototype (T3), SSV (T4) and Truck (T5) category: Registrations for the FIA World Rally-Raid Championships, Manufacturers, Drivers and Co-drivers are officially open via the FIA platform.
Here is some additional information to know about your registration:
Registrations will close on 16 December at midnight, to enable us, among other things, to communicate on the provisional list of registered competitors as of 20 December
For this first year, given the registration deadlines, competitors will be able to send proof of payment to the FIA up until 28 December at midnight
Please note that you can register for the Drivers Championships (excluding Manufacturers) throughout the season, at the latest before the close of entries for the first rally in which the competitors wish to score points
Get information!
All information are already available about the organization of the championship and your entry: Calendar, terms and conditions of participation, awarding of points and titles by category, sporting rules, contribution of A.S.O./DAKAR expertise, creation of dedicated image content, year-round promotion and international media coverage, logistics support, and much more.
Please read below the World Rally-Raid Championship presentation as well as the memo summarising the rights and obligations of Teams, Manufacturers, Drivers and co-drivers, which must be signed and returned to us before December 16th at midnight, at the following email address: competitors-fia@worldrallyraidchampionship.com



The regulations were published on 19 October on the FIA website as part of the 2022 CROSS-COUNTRY RALLY SPORTING REGULATIONS (Page 61).

If you need any further information or have any questions concerning your desire to participate or your entry for the FIA World Rally-Raid Championship, contact Charles Cuypers directly at competitors-fia@worldrallyraidchampionship.com or +33 6 40 20 37 01.