PRZYGONSKI SETS UP NAIL-BITING FINISH TO RALLY KAZAKHSTAN WITH FASTEST TIME ON PENULTIMATE STAGE
MEDIA INFORMATION
2018 Rally Kazakhstan
For immediate release
Friday, June 1st, 2018
PRZYGONSKI SETS UP NAIL-BITING FINISH TO RALLY
KAZAKHSTAN WITH FASTEST TIME ON PENULTIMATE STAGE
· Al-Rajhi's overall lead reduced to 2min 12sec; Alphand second quickest in MINI Buggy
· Chernenkov loses T2 lead to Ivanov; Navarro heads T3 rival Pena Campo by 33min 10sec
AKTAU CITY (KAZAKHSTAN): The fastest time on the penultimate 298.04km special stage by FIA World Cup leader Jakub Przygonski has set up the prospect of a nail-biting finale to Rally Kazakhstan.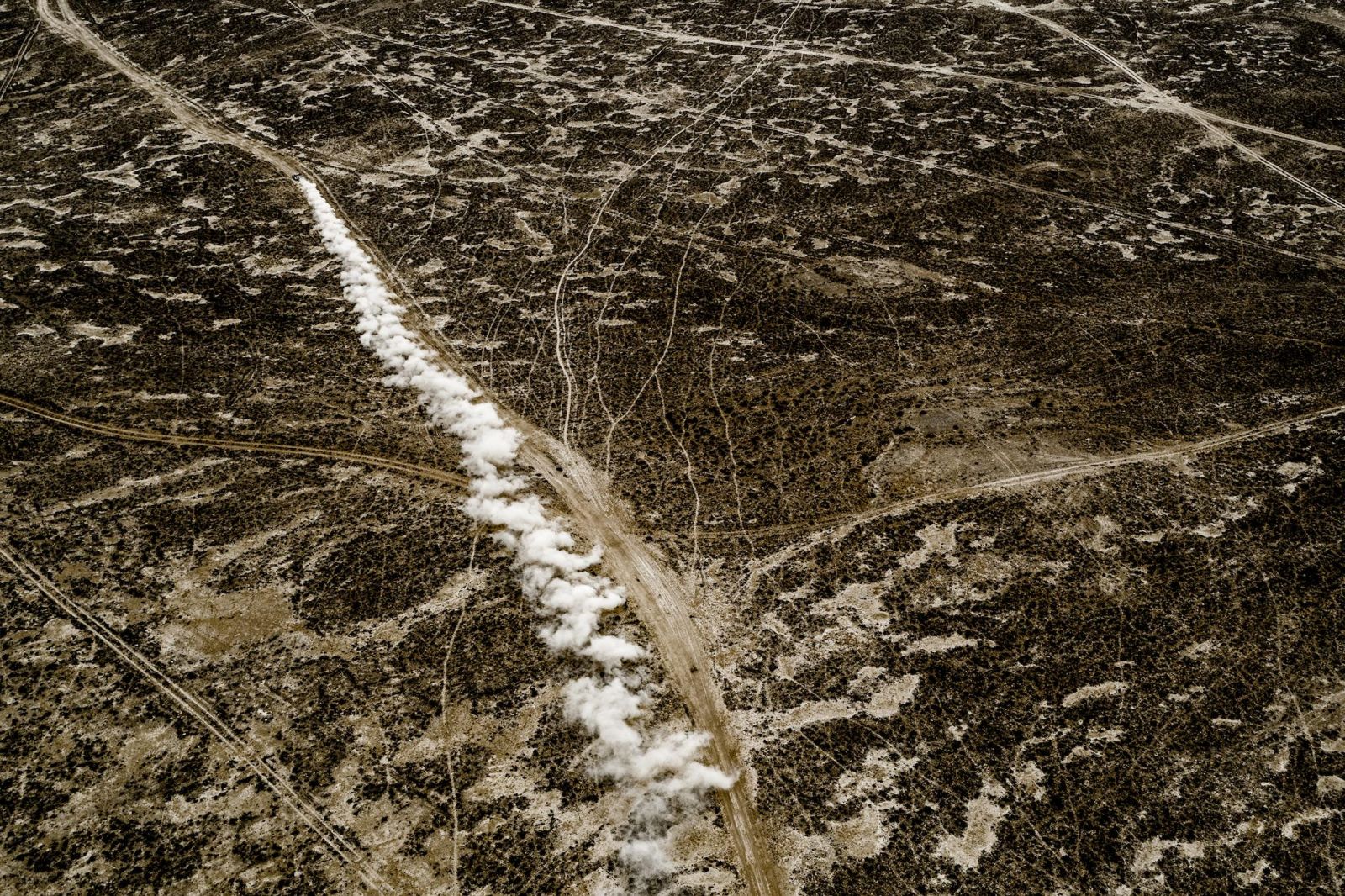 Spectacular terrain in Rally Kazakhstan
The Pole and Belgian navigator Tom Colsoul guided their X-raid MINI John Cooper Works Rally to a time of 2hrs 48min 19sec on the short timed section to the north of Aktau City on Friday but, more importantly, they beat
team-mate Yazeed Al-Rajhi by 6min 26sec. They now trail the Saudi Arabian driver - who suffered navigational issues from opening the stage - by just 2min 12sec heading into a MINI showdown by the Caspian Sea on Saturday.
Przygonski said: "It was a good stage for us because the plan was to win and go as fast as possible. We made good lines, great navigation from Tom and a good rhythm. We are really happy."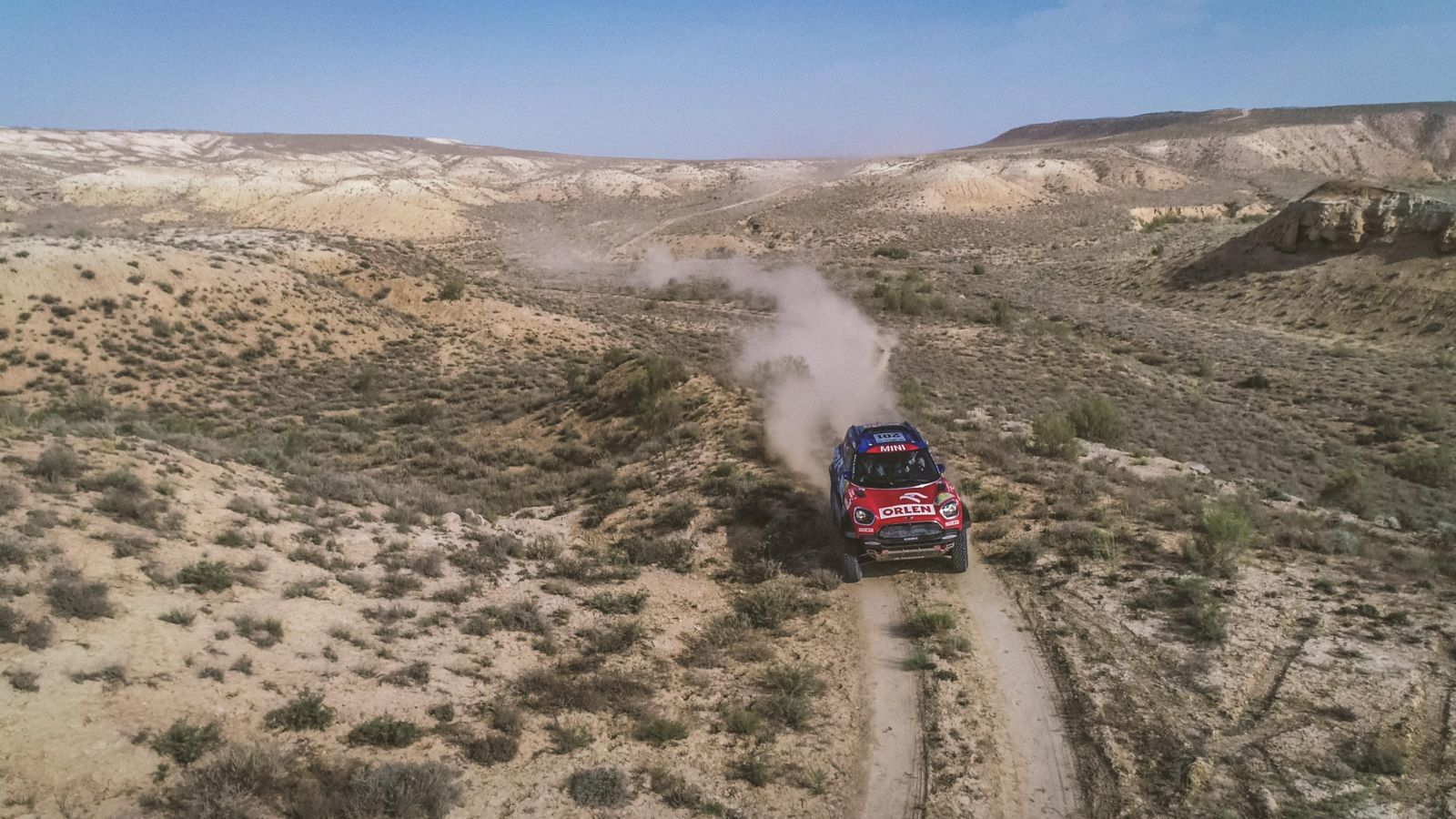 Jakub Przygonski
Everything is okay, but it was not easy to open the road," said Al-Rajhi. "We got lost three times!"
The Russian duo of Vladimir Vasilyev and Konstantin Zhiltsov dropped over five minutes to the stage winner and could well have lost their chance of outright victory in a MINI Cooper Countryman. They slipped to third overall but actually closed the gap on leader Al-Rajhi from 8min 05sec to 6min 45sec. But the final stage is short by Kazakh standards and there will be limited opportunities to make up that kind of time difference.
Czech driver Martin Prokop delivered another solid stage in his Ford F-150 Evo to remain in fourth overall, while Frenchman Luc Alphand bounced back from four days of niggles to set the second quickest time in X-raid's MINI Buggy and consolidated fifth position.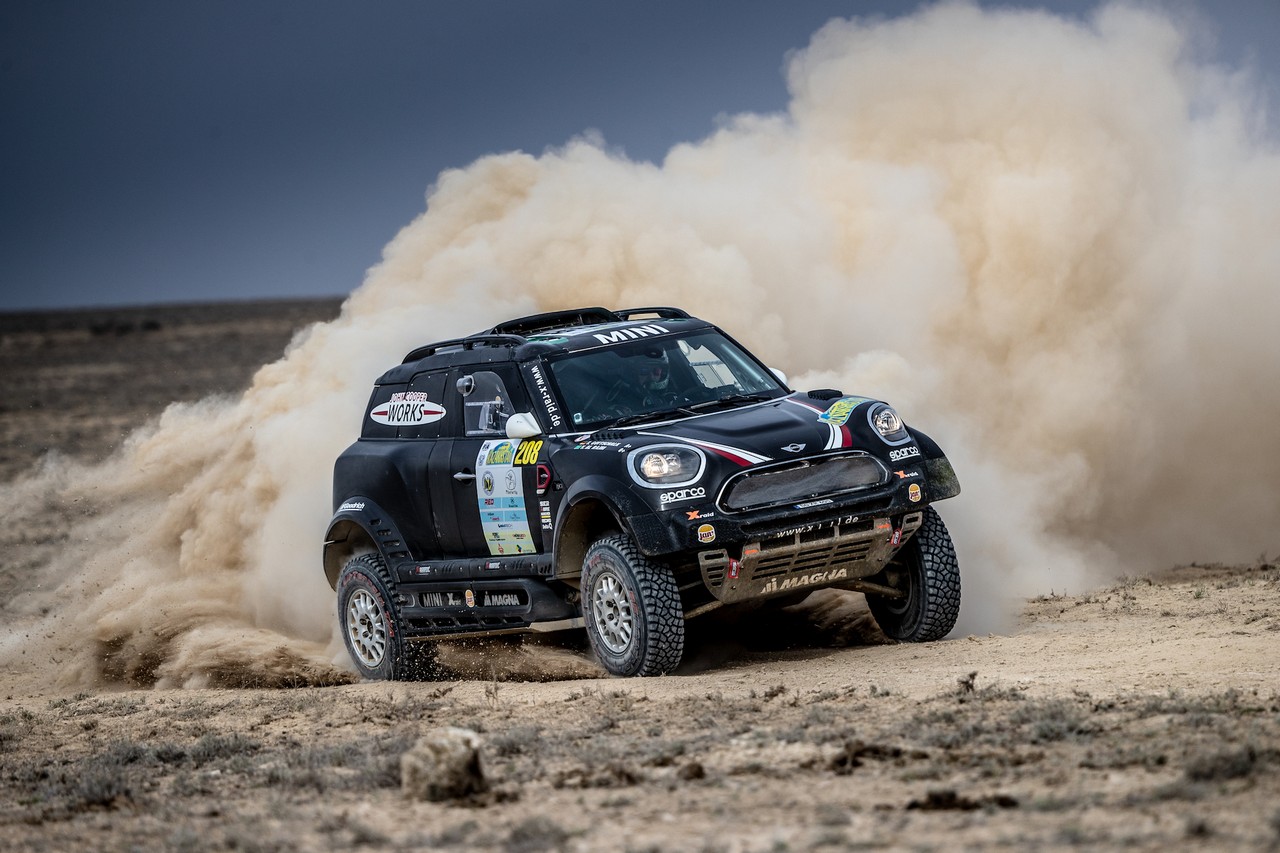 Yazeed Al-Rajhi
Alphand said: "This was a pretty good day. It was a nice stage again. We were more comfortable in the Buggy. There was a lot of sand and more jumps and that's why the Buggy was cool. The dunes were not so difficult. We had three little stops and we got a little lost one time. The car has great potential. We still need to work on a few things. When it is ready, it will be fantastic."
G-Force driver Boris Gadasin and England's Harry Hunt (PH Sport Peugeot 3008 DKR) delivered impressive stage performances to record the third and fourth fastest times and hold sixth and eighth in the overall rankings.
Hunt said: "It was a really nice stage, fast and a lot of bumps. At the beginning it was sandy and there were some dunes in the middle before it became very fast at the end. We had two punctures. We were good, then we had a puncture on the back left after 70km, and we were good and we had another one. Then we had some other issues. There was a dead horse in the road book, so we had to be careful. This is a trial for the rest of the season. We may change some things on the car for the rest of the season."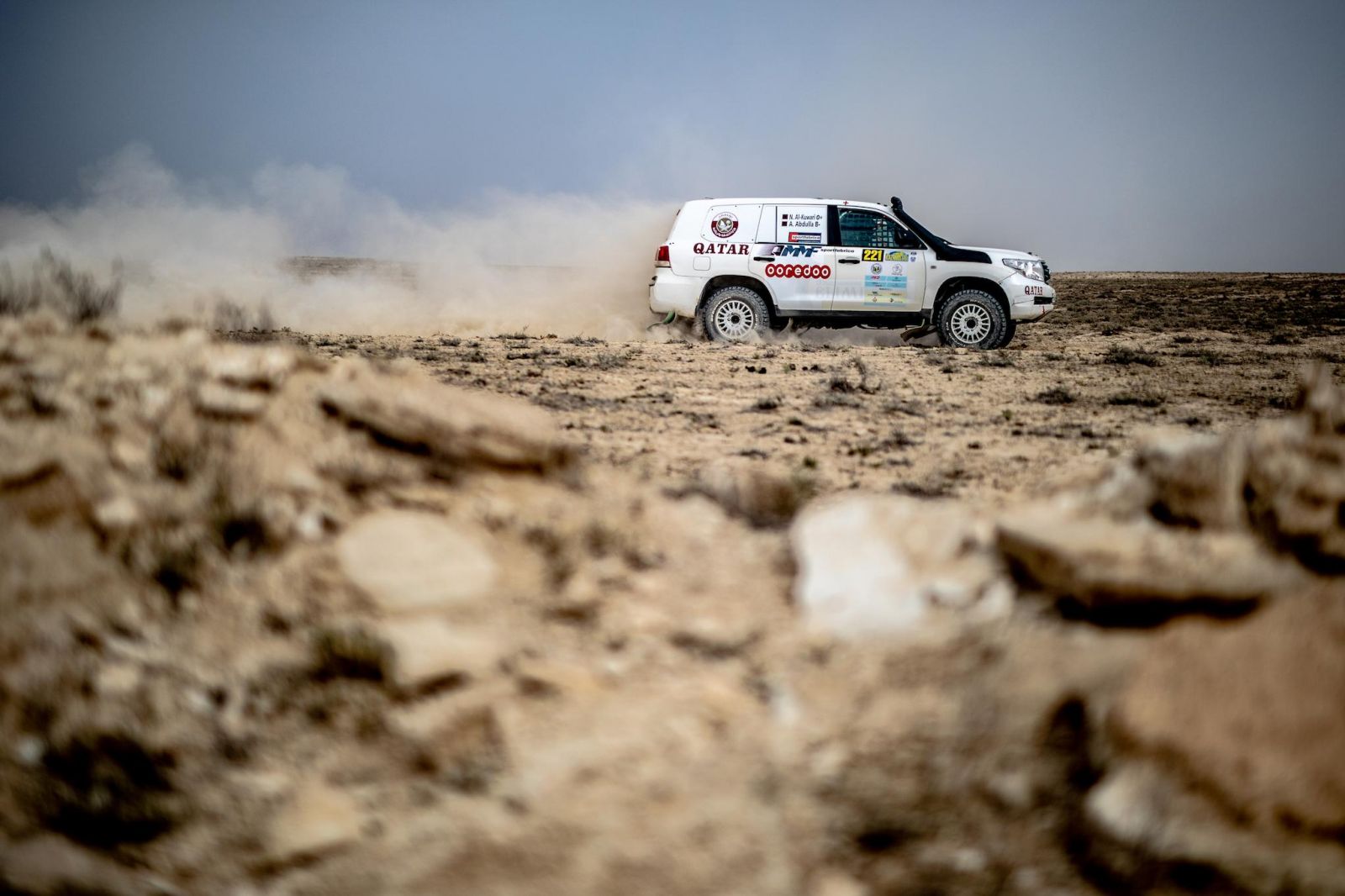 Adel Abdulla
Yerden Shagirov bounced back to form with the eighth fastest time, as Viktor Khoroshavtsev (MINI John Cooper Works Rally) regained seventh position at the expense of Russia's Andrey Rudskoy, who fell to ninth overall but remained well clear of 10th-placed Denis Krotov, Germany's Jürgen Schröder in 11th and Shagirov (12th).
Kirill Chernenkov dropped 58 minutes to Qatar's Adel Abdulla on the fourth stage but the Kazakh extended his lead over Russia's Konstantin Ivanov to 43min 49sec before the start of stage five. OFF-ROAD Kazakhstan's Marat Abykayev retained a comfortable third position after Abdulla incurred further time penalties.
But Chernenkov lost his chance of winning the T2 category when he incurred 100 hours of time penalties on Friday and that handed a great chance to Ivanov and Abykayev. Adel Abdulla continued his charge and set a third successive fastest time, as Ivanov completed the special 8min 32sec behind the Qatari to take a lead over Abykayev of 38min 35sec into the last day.
T3 overnight leader Santiago Navarro extended his lead over Spaniard José Pena Campo to 33min 10sec with the fastest time, as Kazakh Dmitry Pitulov and Frenchman Patrice Garrouste remained entrenched in third and fourth places with hefty time penalties.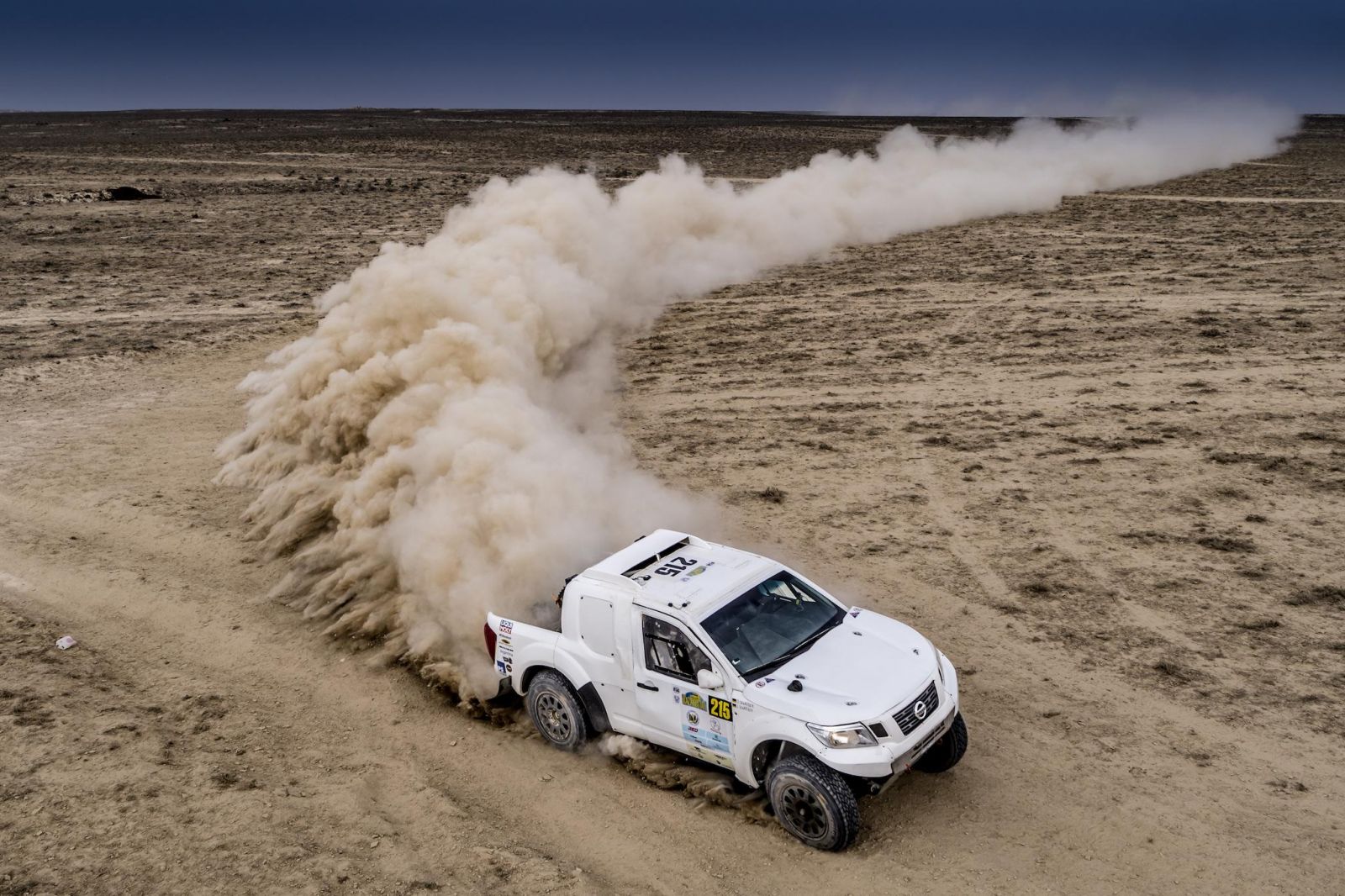 Juergen Schroeder
Sergey Kupriyanov cruised through the fifth stage and remains on course for the National Rally win in his Team Kamaz Masters truck after Russian team-mate and the day's stage winner Andrey Karginov suffered problems on day four and incurred 100 hours of time penalties.
Tomorrow (Saturday) marks the final selective section of the event. Crews will tackle a short 148.52km section to the north of Aktau City that finishes with a scenic blast along the shoreline of the Caspian Sea before the ceremonial finish later in the afternoon.
For further media information: Neil Perkins, NDP Publicity Services, international media officer, 2018 Rally Kazakhstan, UK mobile: +44 7831 123153, E-mail: ndppublicity@googlemail.com, Twitter: @LordPerkins, www.ndp-publicity.com (press releases).